Reading Time:
13
minutes
Best Places to Visit in Ella, Tourist Places & Top Attractions
About Ella – The Iconic City
The 10 Best Places to visit in Ella, Sri Lanka. Here we are going to share with you, The 10 Best Places to Visit in Ella. If you are looking for a place full of amazing things to do, lush charming beauty, refreshing waterfalls, immense landscapes with green mountain peaks and a chill atmosphere, you have to head to Ella, Sri Lanka.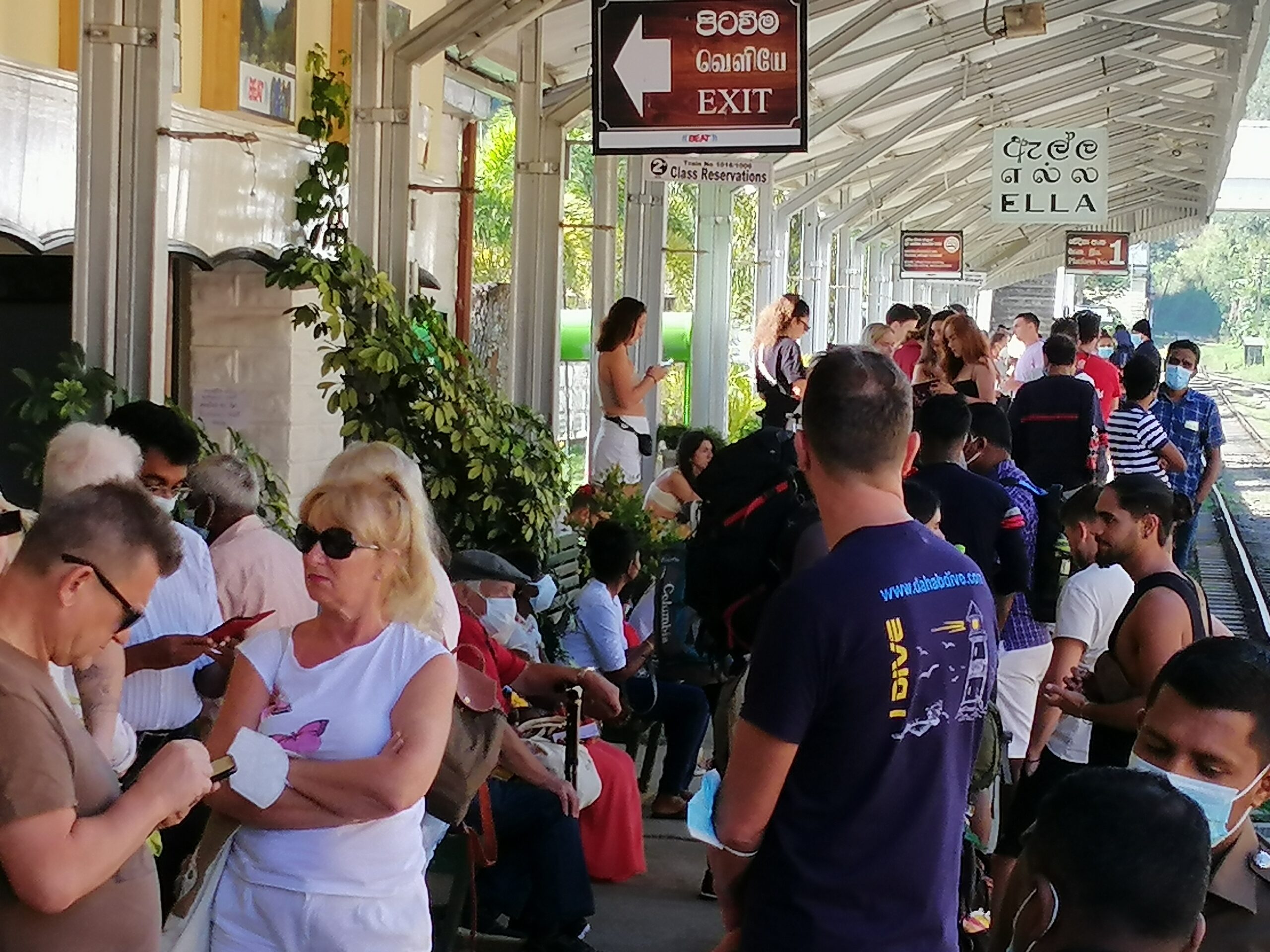 Ella is a small town on the hillside located in the Badulla district, province of Uva, Sri Lanka and it is the number one destination within the country for tourists to visit. Ella has become one of the most popular stops along the Sri Lankan travel route thanks to its unparalleled nature and the town itself has a bustling atmosphere, with plenty of great cafes and restaurants to enjoy after a day in nature.
Here are the Top 10 Best Places to Visit in Ella, Sri Lanka
Little Adam's Peak.
Iconic Nine Arch Bridge
Flying Ravana Zipline
Ella Rock.
Visit The Dambatenne Tea Factory
The world-famous train ride from Kandy to Ella
Ravana Ella Falls.
Views at Lipton's Seat
Idalgashinna Railway Station
Historical St. Anthony's Church
Take Only Pictures, Leave Only Footprints – Happy Traveling!
Best Places to Visit in Ella, Sri Lanka
01. Visit the iconic Nine Arch Bridge – Awesome Places to visit in Ella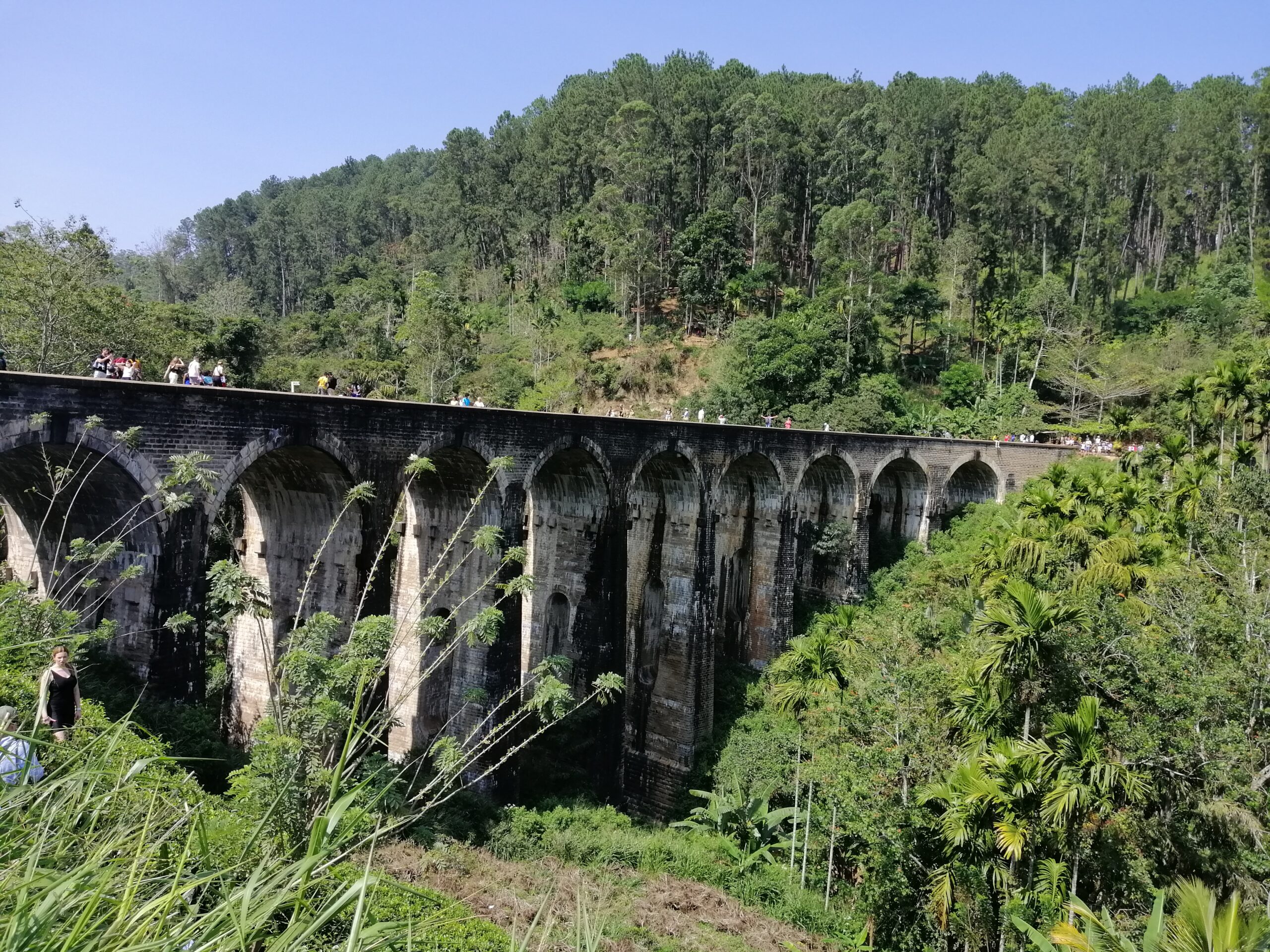 Nine Arch Bridge in Ella is what put this little village on the map and it is one of The 10 Best Places to visit in Ella, Sri Lanka. The glorious Nine Arch Bridge between Ella and Demodara train stations is one of the engineering marvels of the early 20th century. This astonishing bridge is located a 15­–20-minute walk from Ella town, on the same route as Little Adam's Peak, in between the Ella and Demodara train stations, you'll find it hidden up in the dense green hills among low-lying clouds.
The masterpiece carries the scenic train journey from Kandy to Ella to Demodara. The almost 100-year-old bridge rising at 24m high and spreading 91m across should be on every visitor's list. The bridge was constructed in 1921 and it is one of the best examples of colonial-era railway construction in the country. Arguably the most famous attraction in Ella is the Nine Arch Bridge. This gorgeous bridge is surrounded by lush greenery and tea fields and has become the postcard of Sri Lanka. Show on map
The story behind the construction
An interesting story revolves around the construction of this bridge. Soon after this bridge was constructed by the British, the first world war broke out. Thus, the steel used in the development of the bridge was used in the weapons for the war. But, a Sri Lankan named Appuhami took it upon himself to complete the construction. This builder meticulously worked on the development, with the available material and finances, and before the deadline. The bridge was built of stone and cement and has stood tall to date, which is an architectural wonder. Photographers from all over the world consider the Nine Arches Bridge the perfect spot for photography.
Train Timings
It is a great experience watching the trains go by at certain times during the day. The scheduled train timings are 6:15 AM, 6:30 AM, 9:15 AM, 10:45 AM, 12:00 PM, 1:30 PM, 3:25 PM, 5:40 PM, 6:30 PM, and 6:45 PM. If you arrive at the bridge 10 to 20 minutes before the train, you can explore before it arrives.
02. Take the world-famous train ride from Kandy to Ella – Best Things To Do in Ella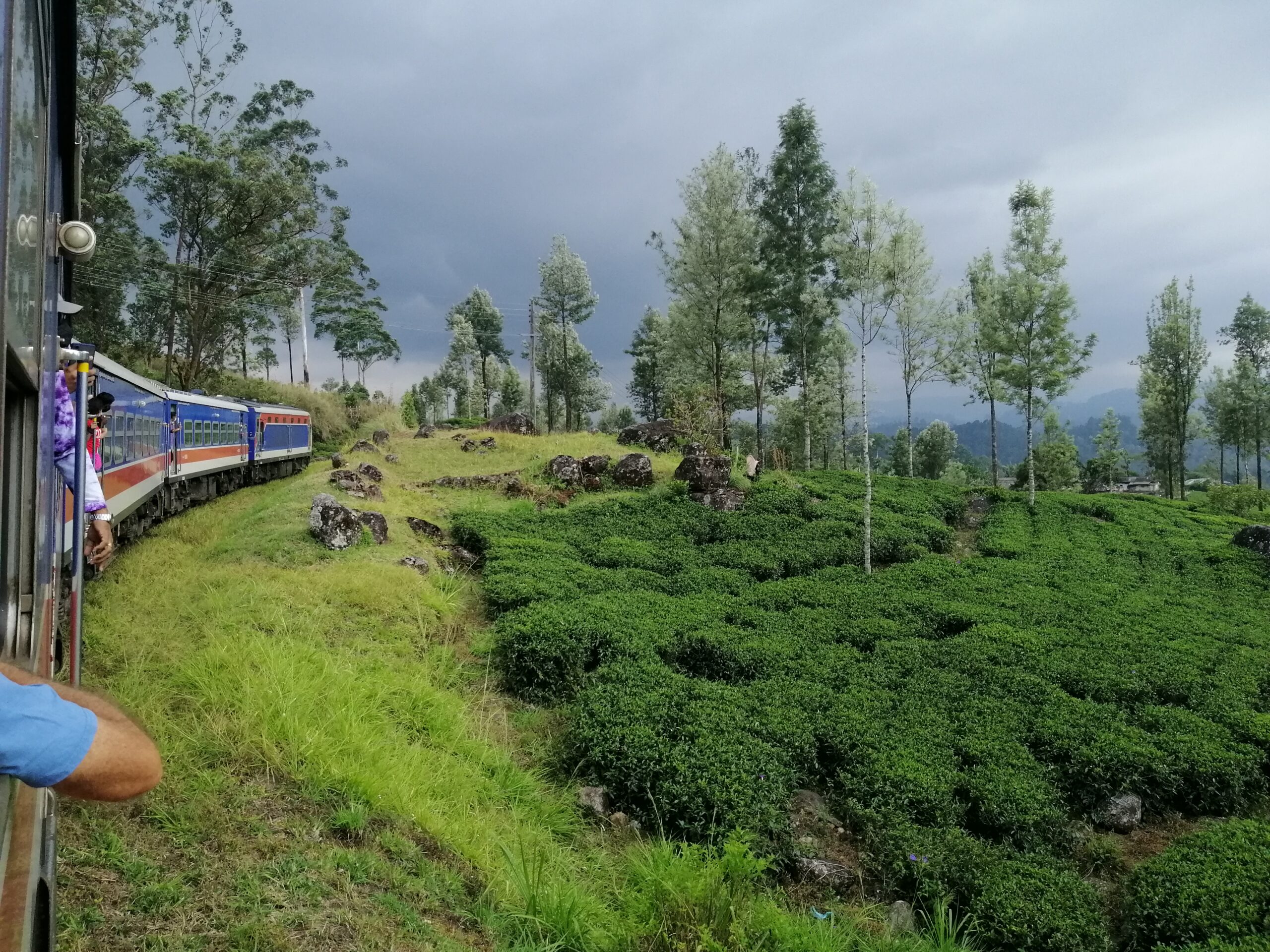 The train ride from Ella to Kandy is considered one of the most beautiful and epic train journeys in the world. The 7-hour-long famous train route takes you through the vast and somewhat never-ending breathtaking views of lush tea plantations and fascinating mountainsides in Sri Lanka. This is definitely the most exciting way to get to Ella. So, this is one of The 10 Best Things to do in Ella, Sri Lanka. There are three levels of classes available for travel by train. If you value comfort, be sure to go with first class, for personal experience goes with second class, but if you want a local experience go with third class. Definitely, It'll be a train ride you won't forget! Show on map
Note: The train ride from Kandy to Ella has become a popular activity for tourists. Make sure to book a ticket in advance to make sure you get a seat.
03. Admire The Rushing Ravana Falls – Best Places to visit in Ella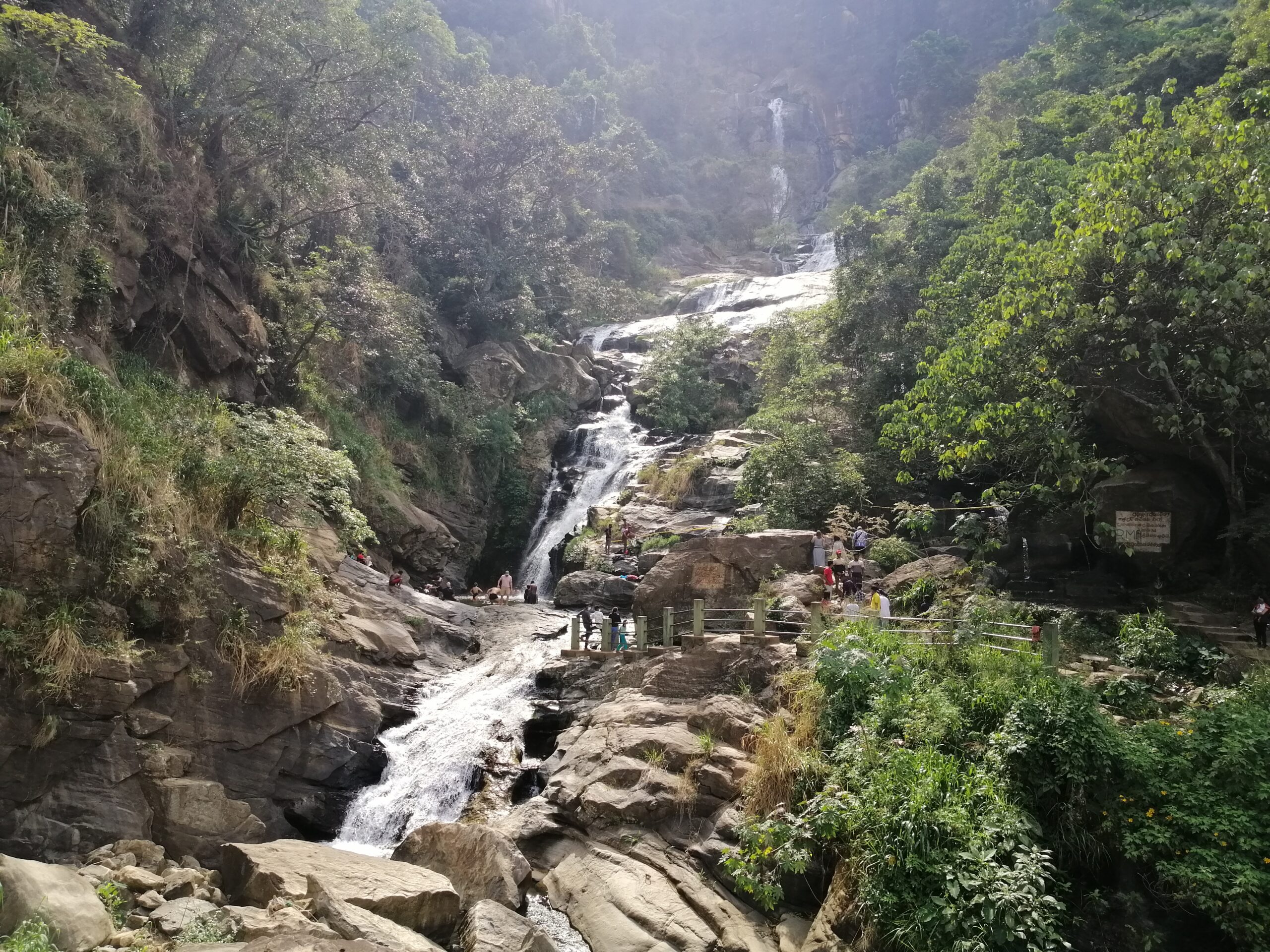 This huge and beautiful waterfall is really quite impressive to see. Ravana Falls is also one of the closest waterfalls to Ella, making it very easy to get to. Definitely, this is one of The Top Attractions in Ella, Sri Lanka. Ravana Falls is entrenched in myth and folklore. It is believed that the demon King Ravana, from the epic Ramayan, hid Sita in the cave behind the waterfall after he kidnapped her and brought her back to Sri Lanka. Show on map.
History of Ravana Falls
Ravana, the king of Sri Lanka, was a mighty warrior. His strength and powers of sorcery alone were believed to be sufficient enough to outthrow any current technology and armaments. The reasons why he wanted to capture Ram's lover, Sita are as follows – as revenge for the humiliation that his sister, Surpanakha underwent that led to the cutting of her nose to marry Sita, the most beautiful woman whom he set his eyes and heart upon to avenge the killing of his grandmother Tataka by Ram and Laxman. He kidnapped Sita from Ayodhya and held her captive in the cave behind the falls. Sita bathed in the milky waters gushing from the falls amidst the wilderness, every day until Ram came to save her. Ravana created a beautiful garden of colorful flowers around the pool to please Sita, and this is the story behind the underlying beauty of Ravana falls.
When to Visit:
Ravana Falls is a three-tier waterfall and the first tier is the most accessible, and most popular since it's just a few meters from the road. It's not recommended to climb any further than the first tier, and there are only small muddy trails leading further up the hillside. Additionally, always make sure to bring suitable footwear so that you can jump in and out of the pools with ease. During the dry season, the cascade drastically reduces in size, but once the monsoon rains start, the waterfall swells up and forms many rock pools– this is when Ravana Falls is at its most magnificent.
04. Endless Tea Field Views at Lipton's Seat – Best Things to do in Ella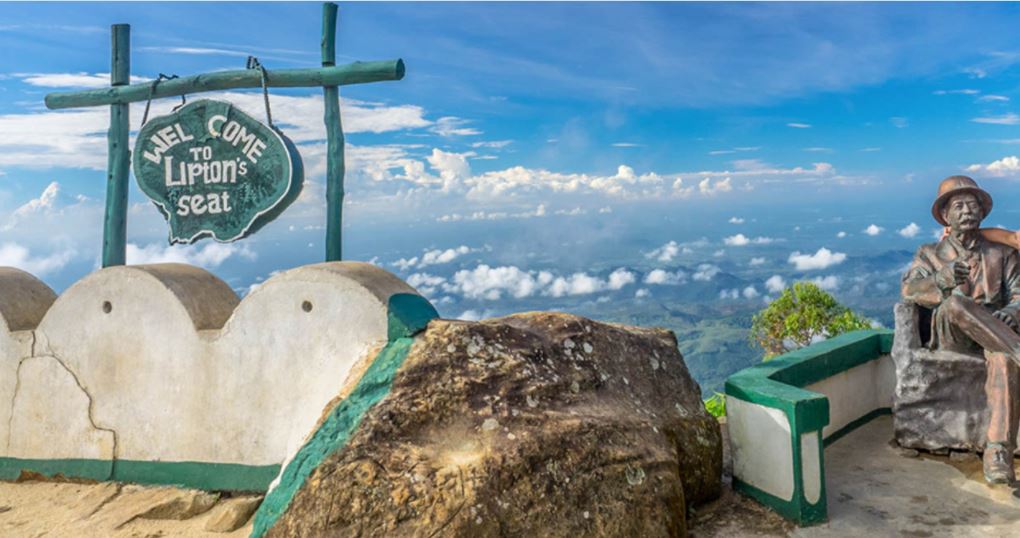 Lipton's Seat in Haputale is the best morning or afternoon trip from Ella. Catch the train to Haputale and take a tuk-tuk to the stunning viewpoint above Lipton tea plantation. It's also the place where he planted the first seeds of tea, Sri Lanka's biggest export. Lipton Seat is a viewpoint named after the pioneer of Sri Lankan tea, Thomas Lipton. Although Thomas has passed away, his legacy of bringing tea to the working-class lives on.
A Viewing Point Like No Other
It is a famous viewpoint 1970m above sea level. Lipton's Seat is a popular viewpoint, from where Thomas Lipton would sit with a cup of tea in hand and proudly look over his estate. Today, you can still have one of the best views from here, and there is even a life-sized statue of Lipton on a bench to take pictures with! From here you will see one of the most breathtaking views, as the sun rises, the hills turn from a dark blue to vibrant green. By noon though, the views get washed over by a blanket of mist, so plan your visit accordingly. If you would like to see the tea pickers too, avoid visiting on a Sunday since it is considered a holiday for them. This is definitely a must-visit which will be enjoyed by anyone.
05. Visit a Tea Factory – Best Places To Visit in Ella
The Dambatenne Tea Factory
The Dambatenne Tea Factory was built by Thomas Lipton in 1890 when he began his tea empire, and this is the factory that manufactures his famous Lipton Ceylonta black tea. Lipton made the tea industry what it is today and he sold his tea all around the world, quickly making Lipton a household name. The factory is set 11km outside of Haputale, with buses running every half hour to Dambatenne. There are no direct rail or bus links to the factory, so your best bet is to get to the local bus over to Dambatenne and walk from there. Tuk tuks are also available. From Lipton's Seat, Dambatenne Tea Factory is just a 7 km short way off, and you can either get there by tuk-tuk or by following a trail through the tea plantation.
An Insightful Tour
There is a tour of the factory that runs every 30 minutes and it is a really interesting activity to do, especially if you're a 'tea-enthusiast'. At the factory, you will be given a tour of the factory grounds where you will be able to see the whole manufacturing process- from the collection of the tea leaves to the oxidation process, and finally the packaging- of Ceylon black tea. At the end of the tour, you will also be able to sample some of the world-renowned Ceylon tea and be given the opportunity to buy a few souvenirs from here.
06. Hike to the top of Ella Rock – Exciting Things to do in Ella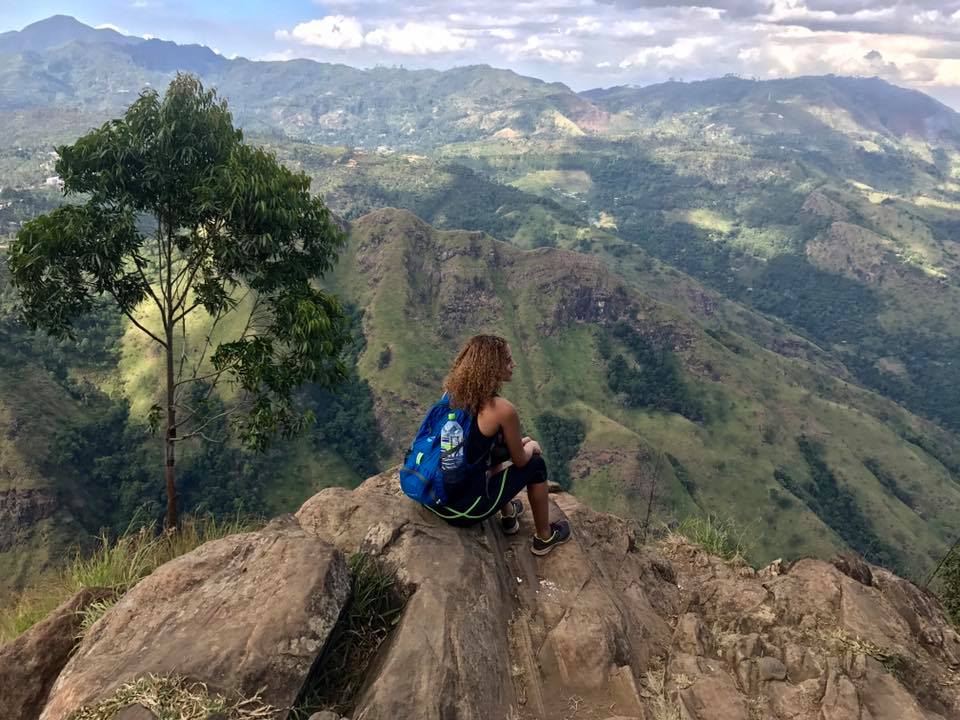 Towering over 1000 feet above the town, Ella Rock is one of the most beautiful viewpoints in Ella and It is very popular for active travelers to spend a day hiking to the top. One of the best hiking and trekking sites in Sri Lanka, the Ella rocks provide the most picturesque views from the top. Walking through the beautiful path, the train track, the bridge and the tea plantation on the way up is a wholesome experience. Although the trail has similar views to Little Adam's Peak, it does take you much higher up for a more panoramic view.
What's unique about this hike is that the trail is incredibly natural and overgrown, giving you a real adventurous feeling. In fact, I'd say it's the best viewpoint for Ella! From the top, you will get a panoramic view of Ella Gap and Little Adam's Peak, as well as Ella town. When visiting Sri Lanka, you must watch the sunrise from a mountaintop at least once and there is no better place than from Ella Rock. Show on map
07. Flying Ravana Zipline – Amazing Things To DO in Ella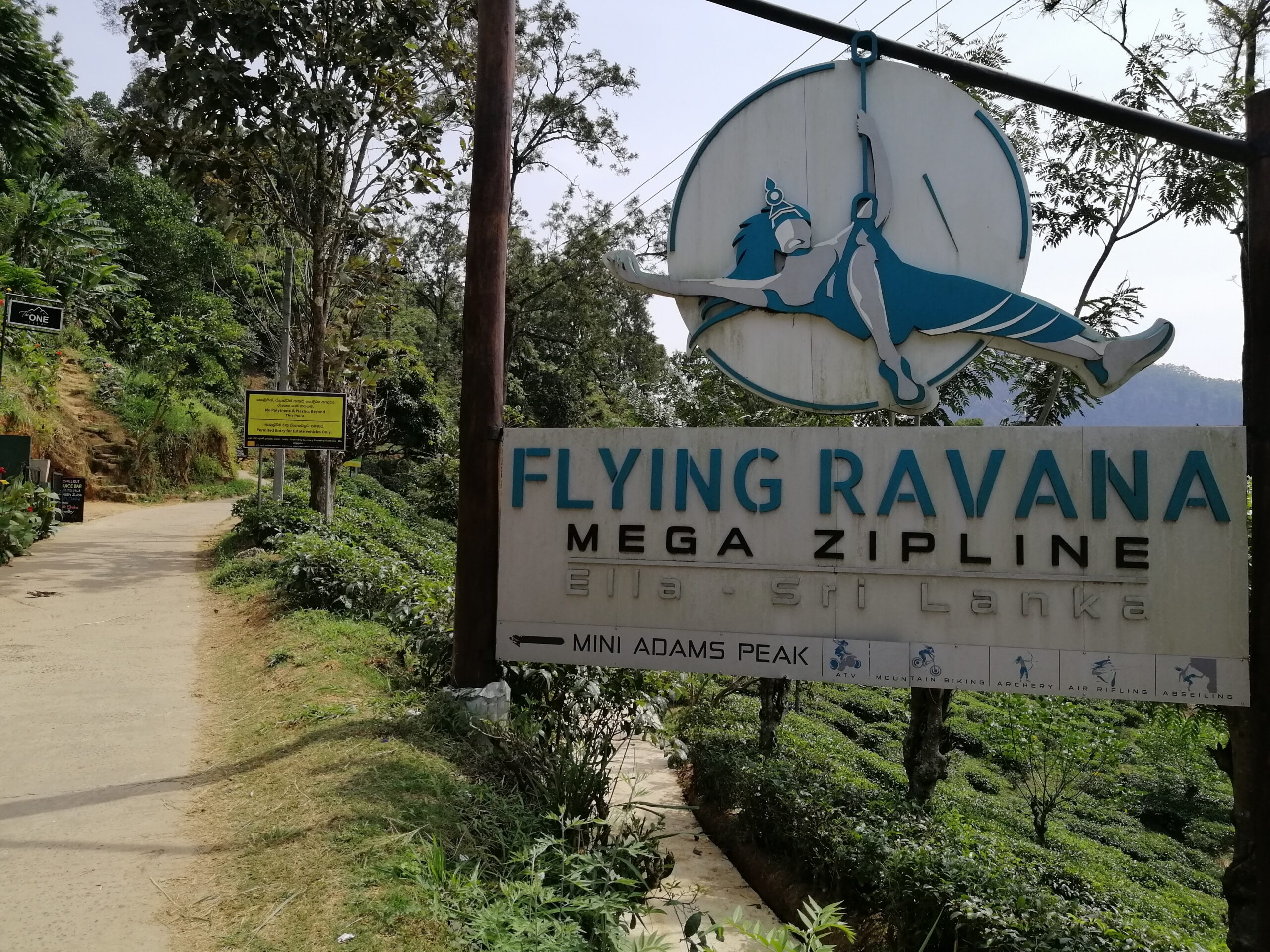 One of the newest attractions in Ella is the Flying Ravana Zipline.
The extraordinary zip line runs for over 500m, sits 82 meters high, and boasts speeds of up to 80km! Zipping high over the treetops and looking down on the valley below is the closest you'll get to flying. During the zipline, you can take in the stunning views around you as you zoom past the viewing deck of spectators. It's also a dual zipline which means you can race your friend to the bottom or just sit back and enjoy that amazing ride next to each other. Show on map.
08. Climb up Little Adam's Peak – Best Things To Do in Ella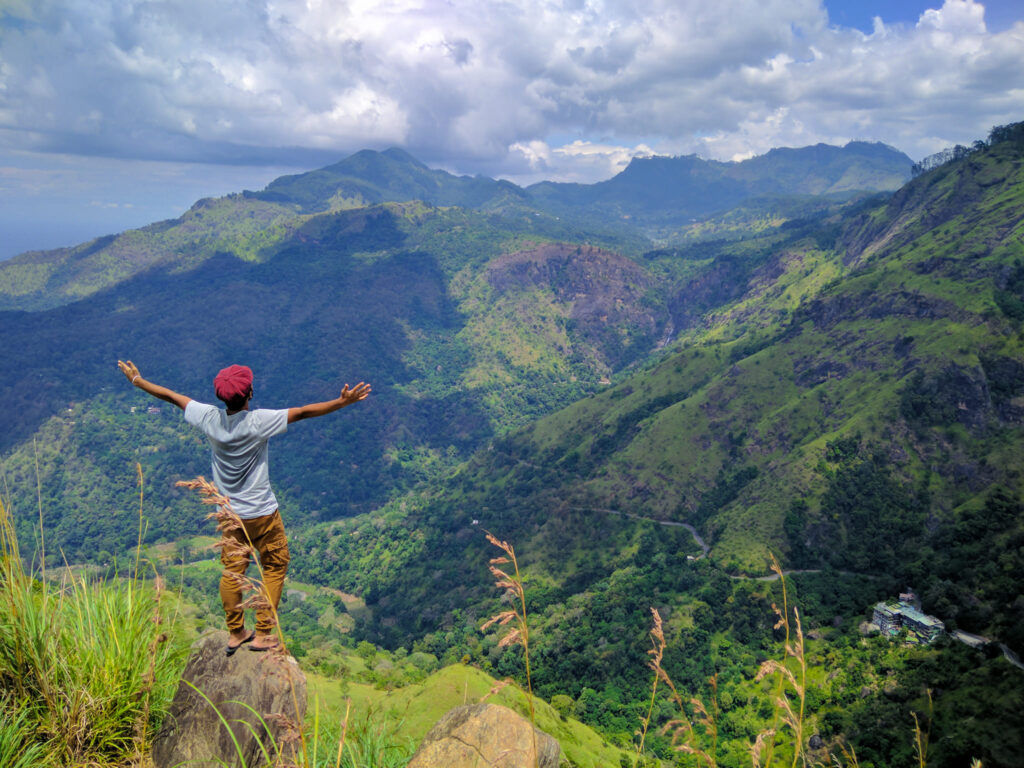 Named after the iconic Adam's Peak (Sri Pada), Little Adam's Peak is its smaller brother and a must-visit when in Ella. Reaching an imposing 1141 meters in the air, Mini Adam's Peak lets thrill-seekers scour stunning sceneries that are made up of densely covered jungle and cliff drops It is also incredibly easy to find the path to Little Adam's Peak since it is clearly marked – just off the main road and right next to 98 Acres Resort and Spa– where you must stop after your hike, for a refreshing cup of Ceylon tea or even a meal to replenish your energy levels. Climbing up through incredible nature, and passing through local villages, tea plantations, and long grass fields is like a hike that you will never forget. Reaching the top is a feeling like an invaluable chance to take in the sensational, panoramic views and feel as if you're on top of the world! Show on map
TIP | This Place got some other names too. So don't get mis-leaded. Some calls it Punchi Siri Pada, Small Adams Peak, and Little Adams Peak.
09. St. Anthony's Church – Historical Places To Visit in Ella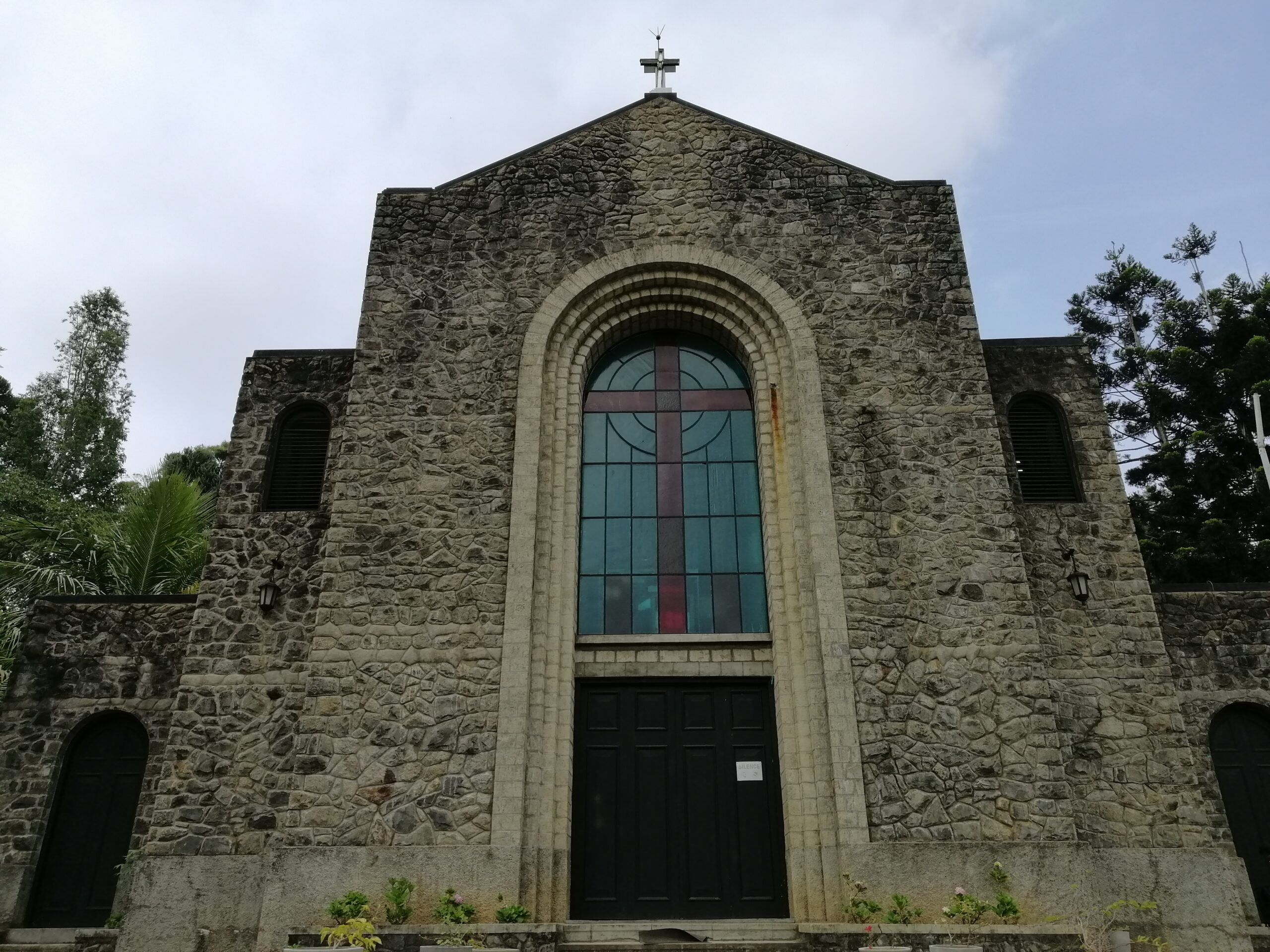 People of all faiths love to visit this magnificent stone church. Built-in the 18th century, this historical Roman Catholic Church still retains its old-world charm. The building has beautiful paintings, murals, and stained glass windows that leave the travelers gaping at their charm. The Church has a huge garden where one can spend a peaceful time listening to the hymns.
10. Idalgashinna Railway Station – Top Tourist Attractions in Ella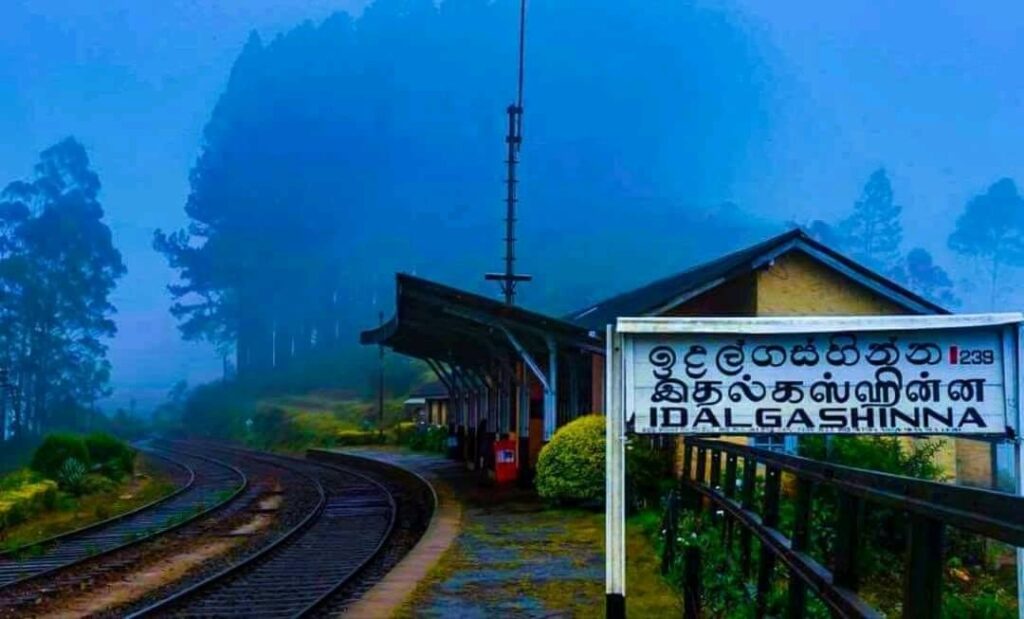 Located between Haputale and Ohiya railway stations, Idalgashinna Railway Station has often been deemed the most picturesque and breathtaking railway station in Sri Lanka. The station dates back to the colonial era and was constructed in 1893 when the railway track was extended from Nanu Oya to Haputale. The station is also famous for having 14 tunnels between Ohiya and Idalgashinna railway stations, holding the record for the highest number of tunnels between two railway stations in Sri Lanka.
Amazing Views to Behold
Idalgashinna Station is a tiny station that looks even smaller by the pine-forest-covered hill towering behind it. There is only one platform for the whole station, and as soon as you get off the train all you can see are endless beautiful green hills with a few scattered buildings which peak through the greenery. The best time to visit the railway station is in the morning, especially at sunrise, because in the afternoon and evenings the station is enveloped in a thick cloud of mist. However, it is magical watching the mist roll in and cover everything in a blanket of white.
A Unique Walking Trail
There is also a very scenic walking trail from the Idalgashinna Station to the Ohiya Station and it is 8km long, so it's about a three-hour walk. The trail runs along the railway track for most of the journey the rail line hugs the edge of the cliffs it passes, and this is where you get some breathtaking views of the forest-covered green hills. The trail also takes you through deep valleys and all 14 tunnels between the two stations Needless to say, this is wonderful and definitely a must when you are in Haputale.
Take Only Pictures, Leave Only Footprints – Happy Traveling!
Where is Ella?
Set 1,041m up amongst the lush hills and tea plantations of central Sri Lanka, Ella is located east of the capital city of Colombo.
Ella, with a population of around 45,000 people, sitting on the edge of the Uva Province has seen a drastic rise in tourism. The main strip in town is now dotted with hotels and western cafes, but walk 10 minutes outside the centre and it still maintains that quaint local village feels with plenty of Ella attractions.
How To Get To Ella, Sri Lanka
By Air: Colombo Airport to Ella: 235 km
By Train: It is very convenient to take the bus to Colombo Fort Train Station and then take a direct train to Ella. The train ride captures the Sri Lankan highlands and will become a highlight of the trip.
By Taxi: You can also take a direct taxi to Ella from Colombo airport for added convenience. It will take you about 5.5 hrs from the airport to the hill station.
By Bus: You can easily take a bus to Colombo Fort and from there change to the bus to Badulla. Get off at Kumbalwela junction which is 10 km from Bandarawela. Kumbalwela and Ella are 5 km apart, so you can take a small bus ride or even a tuk-tuk. Traveling by bus is a bit tiresome, so we suggest taking a train or a taxi to reach Ella.
How to Get Around Ella
WALKING | Due to the size of Ella, it maintains high walkability. Most of the main trails and attractions in Ella can be reached by walking down the train tracks or main streets. You can reach anything in Ella by walking a distance of 15 minutes in any direction, but remember this is hill country, the roads can be steep and windy.
TUK-TUK | If you decide to enjoy the outlying places to visit in Ella Sri Lanka, such as Ravana Falls, hailing a tuk-tuk is your best bet. Costing approximately 200-400 LKR each way, a tuk-tuk ride is super fun and can provide you a chance to chat with a local.
TRAIN | The Kandy to Ella scenic train ride in Sri Lanka is an absolute must on your trip, and in my opinion, is one of the most magical train rides in the world. This train ride also extends from Ella to Badulla if you want to see more of this beautiful hill region.
Best Time to Visit Ella
The best time we highly recommend to visit Ella is in the drier months of January to May. The wet season is starting from September to December Note that Ella is a mountain village, located 1041 meters above sea level. With its warm days and cool nights, the weather in Ella, Sri Lanka, is always perfect for you. You will probably need a sweater in the evening here. The monsoon season in this part of the country is usually between July and November. However, the green lusciousness of the area does mean there's plenty of rain too, although it never lasts for long! However, it's excellent for hiking!
Where to Stay in Ella
Ella is an amazing city full of fantastic accommodation options, from budget guesthouses to luxury resorts with swimming pools and beautiful views. It can be fun to stay in the hillside guesthouses outside of town, where you'll have great views and easy access to hiking trails. Tuk-tuks are everywhere, and your guesthouse can arrange for one to take you to town if you want to eat out in the evenings.
Please Note: As an Amazon Associate I earn from qualifying purchases. This blog post may contain other affiliate links as well by which I earn commissions at no extra cost to you.
Disclaimer: Some of the visual content used in this website is copyrighted and credit goes to its respectful owners. ( Educational Purposes ). Most of the content and information on this website is primarily for informational and educational purposes only. We try to link back to original sources whenever possible. If you own the rights to any of the images and do not wish them to appear on sagraphicslk.com, please contact us and they will be promptly removed. We believe in providing proper attribution to the original author, artist, or photographer whenever possible.
Copyright Disclaimer under section 107 of the Copyright Act 1976, allowance is made for "fair use" for purposes such as criticism, comment, news reporting, teaching, scholarship, education and research. Fair use is a use permitted by copyright statute that might otherwise be infringing. Non-profit, educational or personal use tips the balance in favor of fair use.
For More Blog Posts Please Visit: www.sagraphicslk.com